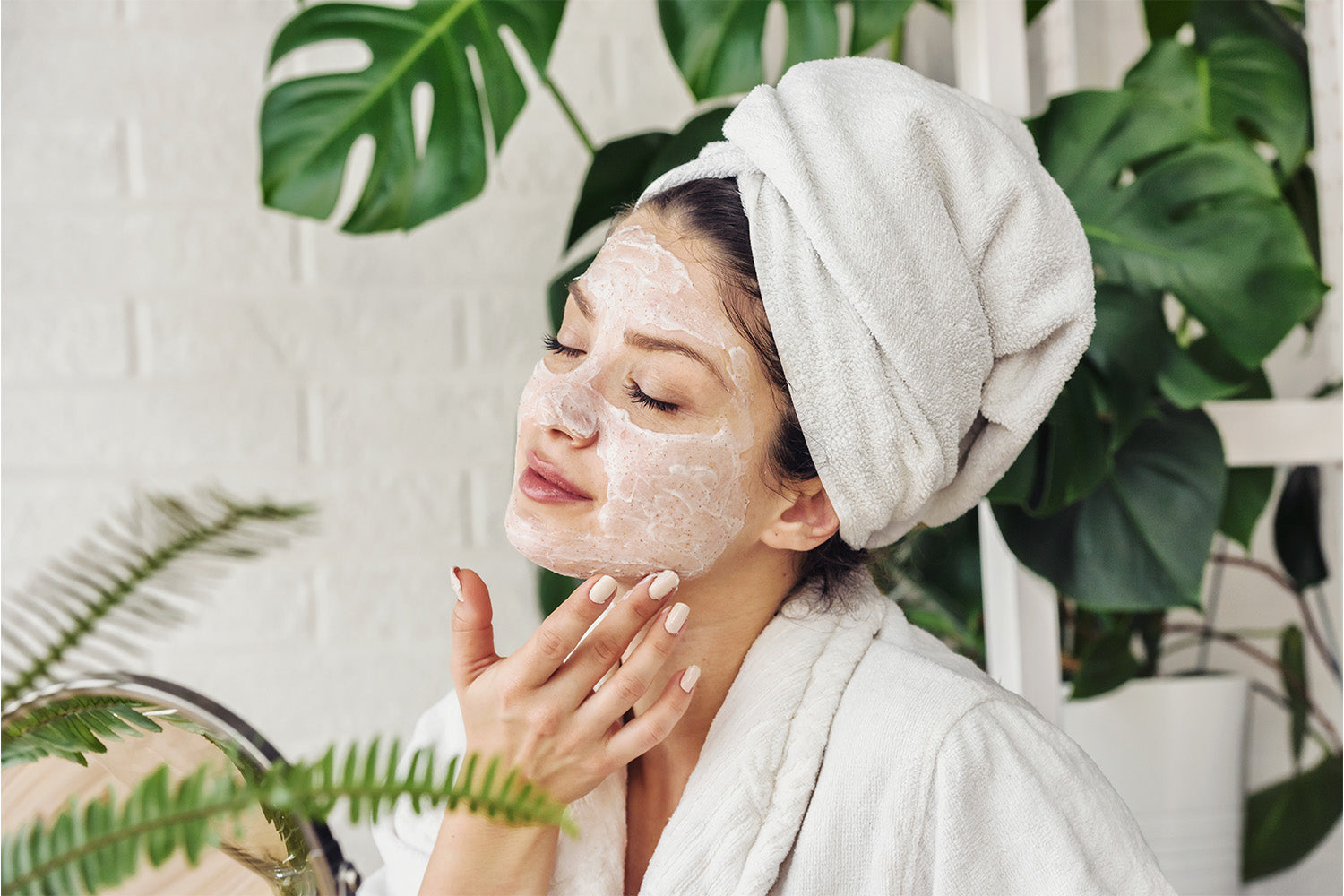 9 Expert Tips on How To Get Glowing and Radiant Skin
Achieving glowing skin requires just the right balance of TLC inside and out — and the truth is that nothing beats the feeling of a complexion that's so healthy and radiant you don't feel the need to wear any makeup.
So, what's the best way to combat dull skin? We'll tell you. Here are nine expert tips on how to improve your skin's radiance:
1. Cleanse Daily
Washing your face is the first step in getting a healthy, glowing complexion. Clearing your skin of debris like dirt, oil buildup, and makeup can prevent your pores from getting clogged. And seeing as clogged pores can quickly lead to dullness, it's easy to see why cleansing is so important.
Use gentle circular motions and your favorite cleanser to wash the day away while also supporting blood circulation in your face.
2. Exfoliate Regularly
One of the best ways to brighten up dull skin and boost its natural glow is by exfoliating with either physical or chemical exfoliants. Exfoliation removes dead skin cells and other debris from the skin's surface to reveal a smoother and clearer complexion. 
Note: While exfoliating is undoubtedly great for your skin, too much of a good thing is not always a good thing. Depending on your skin type, you should exfoliate no more than two to four times a week to remove dead cells without causing irritation. Any more than this, and you risk compromising your skin barrier.
3. Use Toner
Cleansing and exfoliating can leave your skin with an unbalanced pH. As a result, your skin might look dry, flaky, and red. Your skin's natural pH is slightly acidic, but skincare products such as cleansers, facial washes, and scrubs tend to make it a bit alkaline. So, what's a gal to do? 
Enter toner — a skincare product aimed at bringing balance back to your skin's pH. For an extra dose of calm, stick with a toner that contains soothing ingredients like aloe vera and cucumber.
4. Load Up on Vitamin C
Ask any skin expert, and they'll tell you about the wonders of vitamin C for radiant skin. The powerful antioxidant can help heal blemishes, reduce hyperpigmentation, and give your complexion an out-of-this-world glow. 
To reap the benefits of vitamin C, you can apply it topically via a vitamin C serum or cream, but for an extra boost of skin-lovin' magic, we recommend taking Good to Glow — a once-a-day supplement that combines vitamin C and vitamin E to brighten skin while protecting it from free radicals.* 
5. Apply Moisturizer 
Apply a hydrating moisturizer to support healthy skin. This skincare staple is an absolute must to keep your skin healthy, happy, and glowing. For the best results, opt for one that's rich in hyaluronic acid. This coveted natural humectant is a miracle worker when it comes to glowing skin. 
Other ingredients that will add to your skin's radiance include:
Peptides
Ceramides
Glycolic acid
Salicylic acid
Antioxidants
Pro Tip: UV rays can cause sun damage, leading to redness, hyperpigmentation, sun spots, and other blemishes. Keep your skin safe — and hydrated — with a moisturizer that contains sunscreen, ideally with SPF 30 or more. 
6. Try Retinol
As far as glow-inducing benefits go, retinol just might be the MVP. A derivative of vitamin A, retinol's brightening abilities can make your skin look and feel softer and smoother with a radiant glow. It can also help minimize the appearance of dark spots, breakouts, and fine lines and wrinkles. 
Pro Tip: Give your retinoids a helping hand by pairing them with Call Me Collagen — Grass-fed collagen peptide powder. Clinically proven to enhance skin surface structure, simply pour one tear stick into your beverage of choice daily, and you're good to go!
7. Take Probiotics
You've likely heard about probiotics and their ability to support a healthy gut, but did you know that a probiotic supplement may help you to achieve radiant skin, too? 
Yup, it's true — experts believe that probiotics can help your body metabolize key nutrients to support a glowing complexion. 
Not sure where to find a good quality probiotic to add to your daily supplement lineup? We recommend Clear Skin Probiotics — our shelf-stable probiotic formula that has been clinically tested to clear acne† and support your gut-skin connection.* 
Simply take one capsule a day with food to give your complexion the TLC it needs to glow!
8. Drink Enough Water
Believe it or not, something as simple as drinking enough glasses of water can help you kick dullness to the curb and achieve a radiant complexion. This is because water helps the body to flush out toxins while giving you a healthy glow. 
Studies have shown that drinking just two cups of water can increase blood flow to the skin, contributing to an even skin tone. 
9. Eat a Healthy Diet
We hate to break it to ya, but what you eat can have a major effect on your skin's natural glow. In fact, research has found a link between acne and a poor diet. Refined grains, white sugar, dairy products, processed meats, and alcohol are just a few of the culprits that can sabotage a glowing complexion. 
To radiate beauty from the inside out and make your skin glow, consider adding these nutrient-rich foods to your diet:
Avocado
Mangos
Berries
Tomatoes
Kale
Almonds
Green tea
Carrots
Walnuts
Dark chocolate
The Final Word
And there you have it — 9 expert tips on how to get glowing and radiant skin. Whether you're suffering from a dry, dull, or uneven complexion, these expert tips are sure to help you achieve healthy skin. 
But remember: good things take time, and your skin won't change overnight. That said, if you've made the necessary changes to your skincare routine and aren't seeing any improvements in your complexion after about a month or so, you may want to consider reaching out to a dermatologist who can advise treatment. 
Here at Love Wellness, we create natural solutions for natural problems, because it's not just you — we've been there too. From doctor-developed formulas and science-backed products, we have just what you need to feel good in the skin you're in. 
Check us out today to discover clean products that fit your body's needs. 
Sources:
Face washing 101 | American Academy of Dermatology
Retinol: Cream, Serum, What it is, Benefits, How to Use | Cleveland Clinic
Probiotic 'glow of health': it's more than skin deep | PMC
Acne: the role of medical nutrition therapy | National Library of Medicine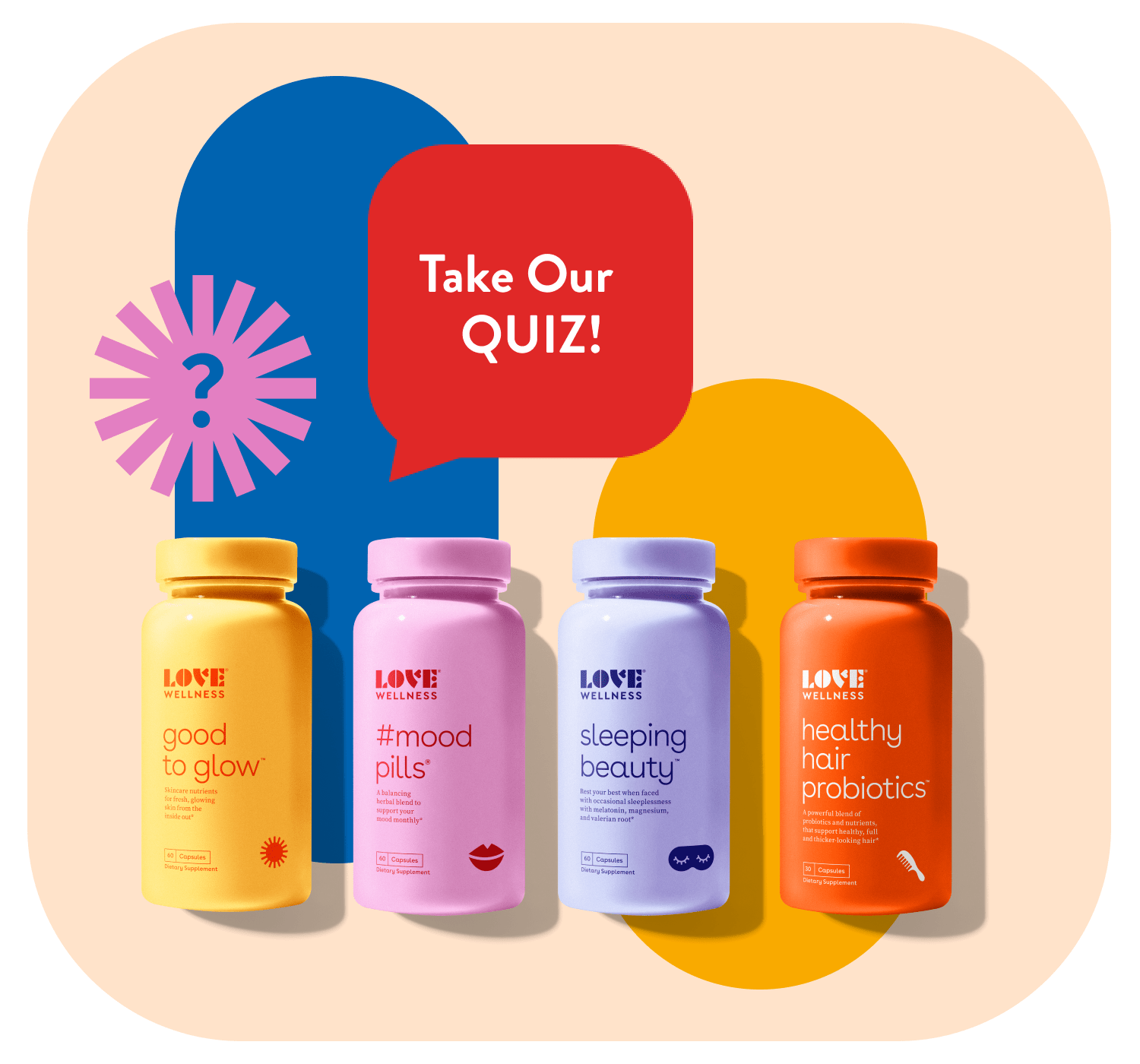 Build Your Customized Routine in 30 Seconds
Discover which of our clean, doctor-developed products will help you eat, sleep, feel, and live better.
TAKE THE QUIZ
Shop Our Founder's Favorites Wellness Products
Shop All